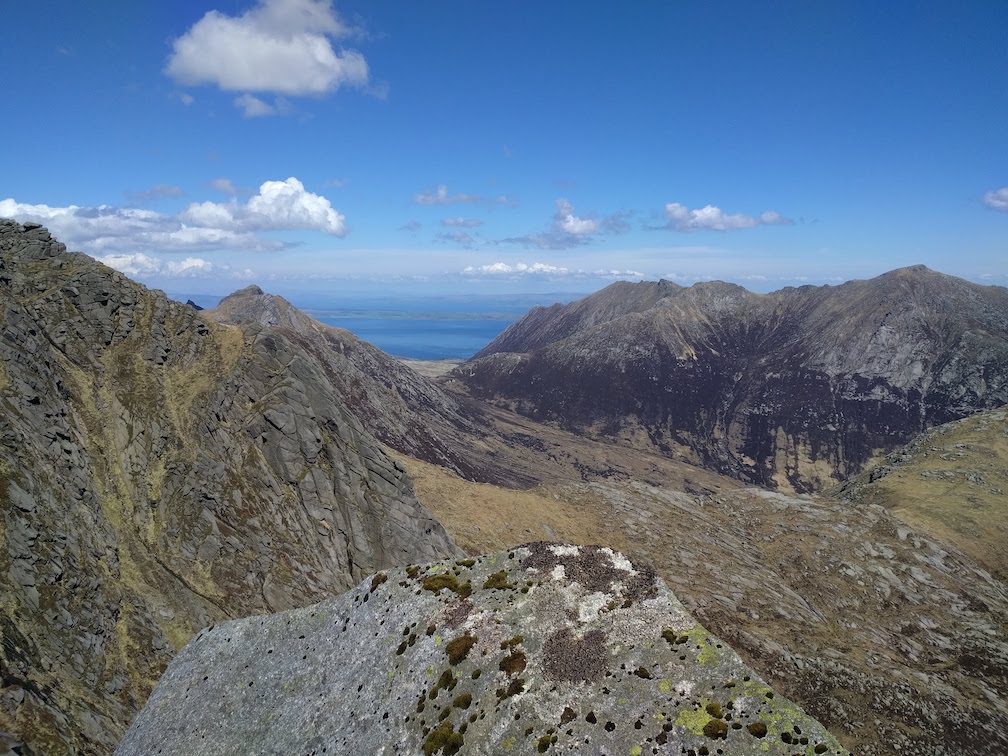 Scotland has been having a heatwave over the last few weeks. It has been glorious. When you get weather like this the scenery is stunning - partly owing to how untouched the natural landscape is.
If it was 25C+ throughout the summer then we'd get apartment blocks, man-made beaches and all the other junk that comes with heavily populated tourist areas.
That's why Scotland is so special.
We get to keep the ruggedness, wildlife and tranquility because the weather is so shite. Tourists head south. So when we do get a run of good weather... Well... This is what you experience...
---
Beinn Nuis and Tarsuinn Ridge
Me and my fellow walker left for a 5-6 hour hike from Glen Rosa campsite up to Cir Mhor. Having never done it before we weren't sure if we could get all the way from the campsite and down Cir Mhor on to The Saddle between Glen Rosa and Glen Sannox. Doing this would have given us an easy walk back down Glen Rosa to the campsite.
Instead, we were a bit unsure once we got to Cir Mhor if the descent was "doable". Looking at a map suggests it is, but Arran Walks and Walk Highlands do write very conservatively about it.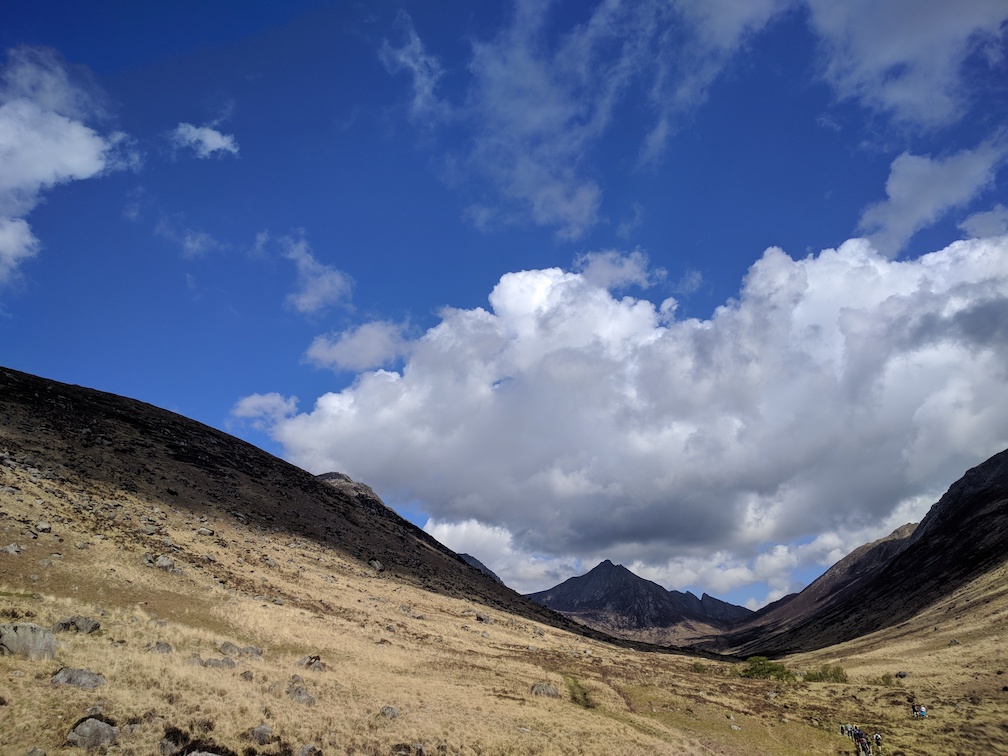 So we got to Cir Mhor and did the sensible thing and retraced our steps, as we were pretty tired. This added a couple of hours on to the journey. But it was no big deal, as the weather was brilliant!
I'll write again about the descent from Cir Mhor to The Saddle once I've done it. TBC as they say.
...
The walk to Cir Mhor consists of reaching a number of peaks. Firstly, Bein Nuis then Bein Tarsuinn and then A' Chir. Along this ridge you get spectacular views from all sides. You can see Jura, Islay, the west coast of Arran, Glen Iorsa, Holy Isle, the mainland, and as far as Loch Lomond National Park (I think).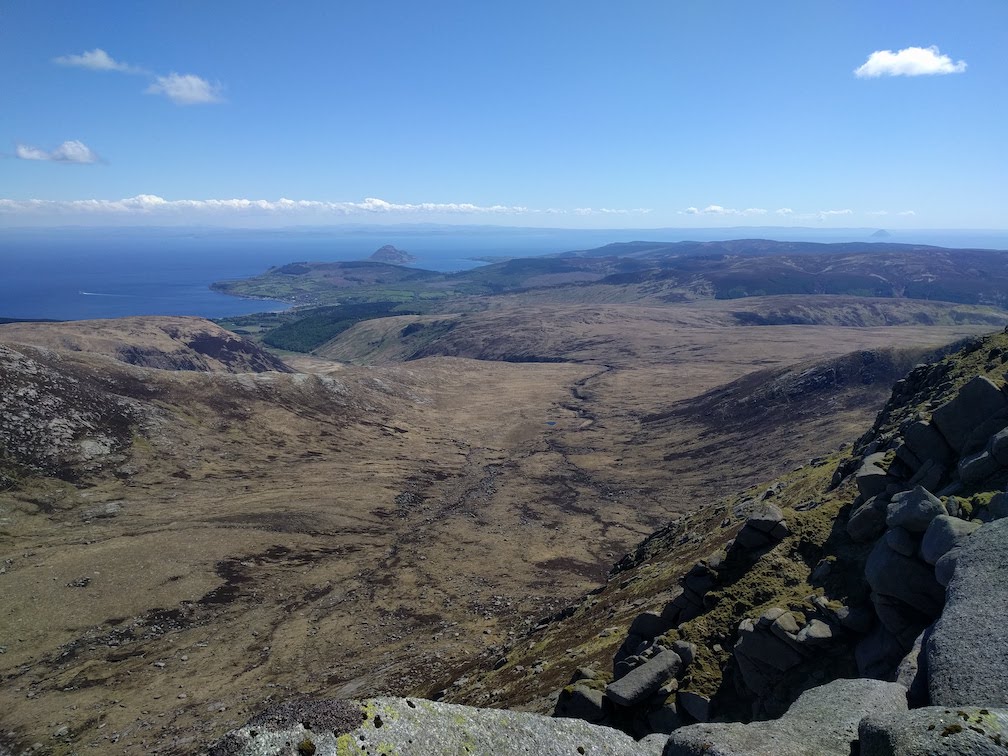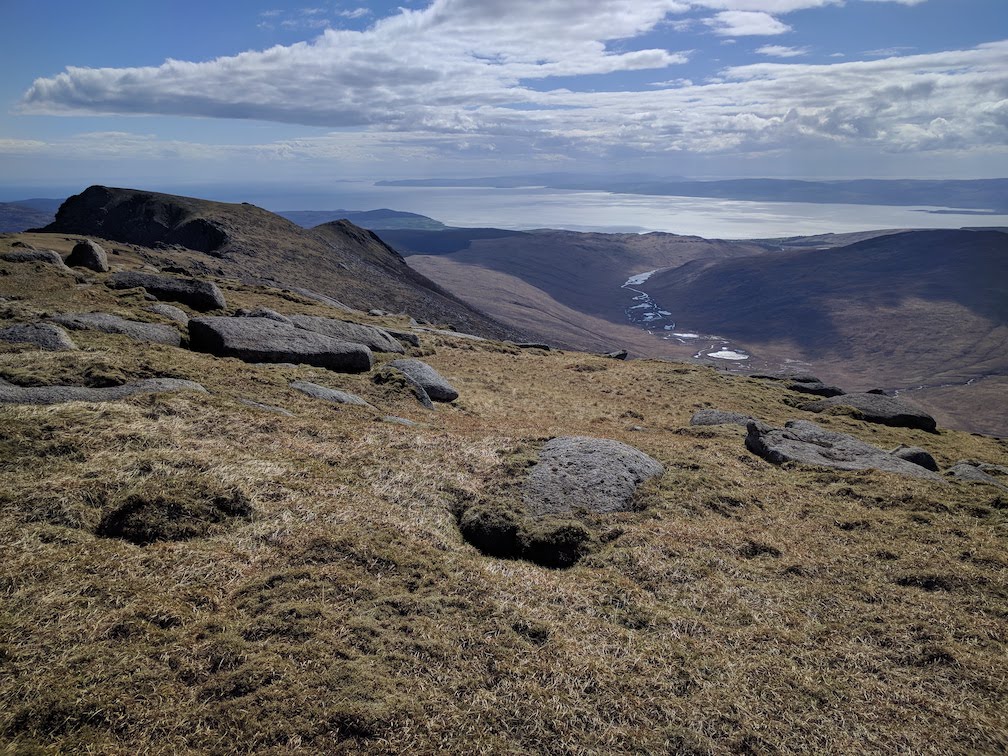 There are some tricky bits to it. The bog before the climb to Beinn Nuis is laborious and not that clear of a path (in May anyway). I'd also say that the climb up to Beinn Nuis is steep. There is no scrambling but it is like climbing stairs for a good 300m elevation gain.
There is scrambling though down from A' Chir to a lower point before climbing back up to Cir Mhor (the bit we turned back it). We didn't have walking sticks with us, but I reckon they would be useful. Likewise is good footwear.
We got the walk in beautiful weather and it was challenging. In worse conditions, it would be very difficult for your average hill walker (me). Don't even think about it if it's very windy and there is a chance of storms. Go to the pub instead.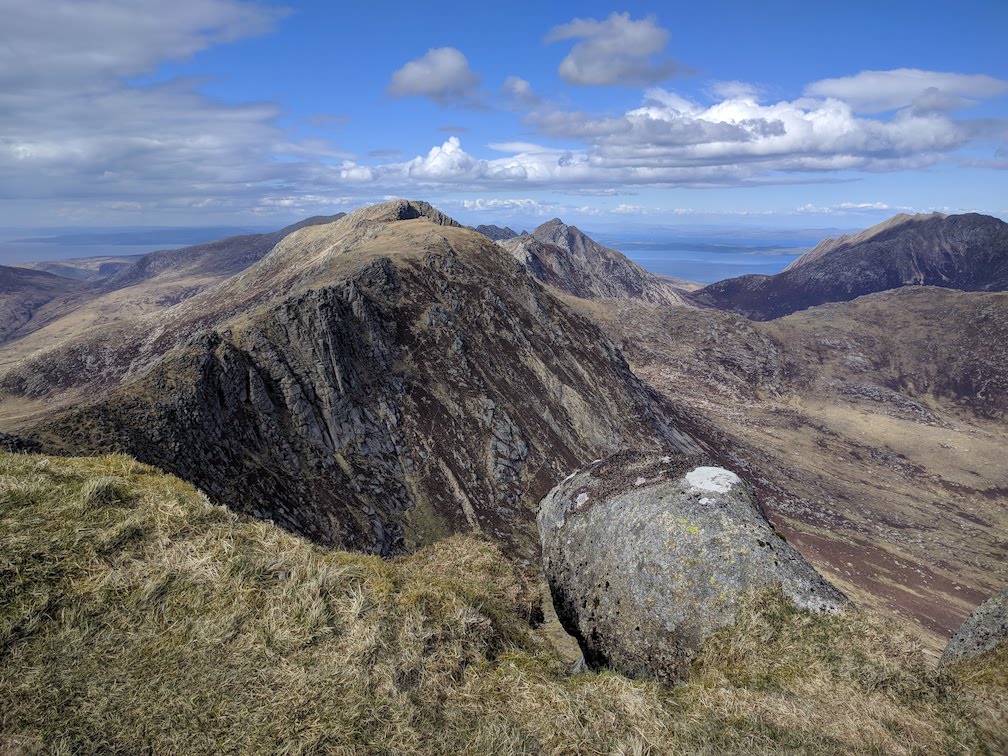 Glen Sannox to Goat Fell and back
I've recently moved to the north part of Arran after a few months further south. The north part is where the action is if you like mountains.
The path up Glen Sannox is amazing. As you meander by some old ruins, a graveyard and over some streams the Glen opens up with steep mountain faces either side. The Saddle between Glen Rosa and Glen Sannox is straight ahead.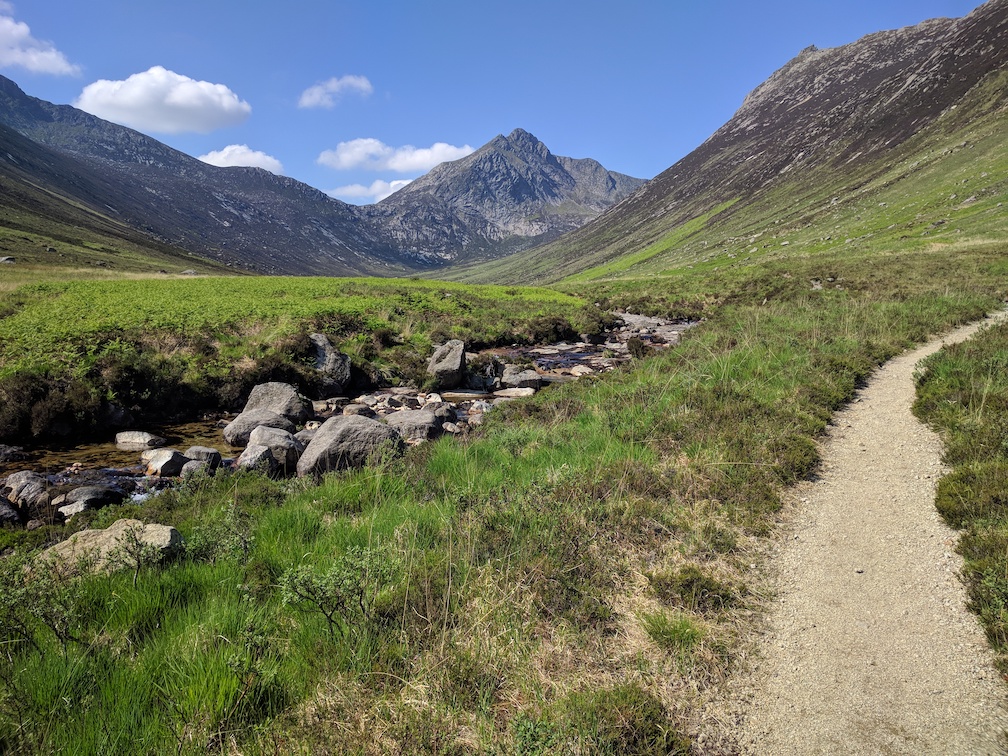 From the main road in Sannox to the base of The Saddle it's about 2.5 miles and only slightly up hill. You can bike it there too if you want. I chose to run of course - and after a short break at the base to get my breath back, I climbed The Saddle.
"Climbed" being the correct word.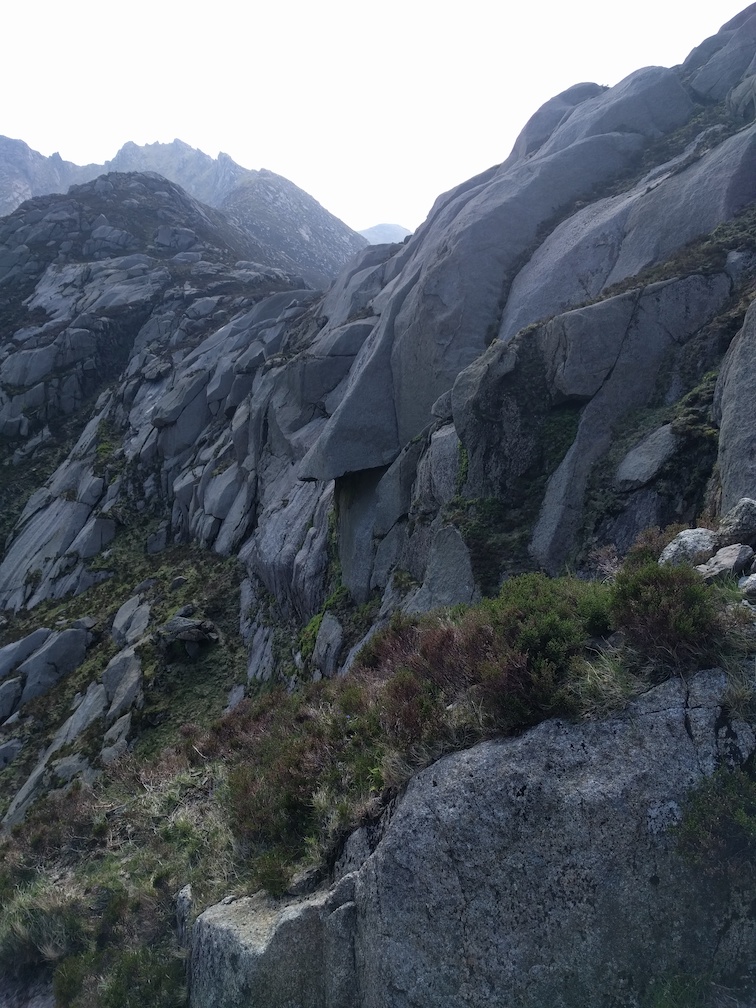 There are different entry points to Goat Fell. My understanding is that it is more difficult form the Glen Sannox and Glen Rosa routes than from the Brodick Castle side.
From Glen Sannox, the climb to The Saddle is one of the more challenging sections. Given that I was running, it was a tad bit harder. The toughest section is the narrow corridor that you need to climb up. It's a good scramble - any steeper and you might need ropes! This selection is called Whin Dyke. Here's some photos on Google to give you the gist.
As you'll see, you can't run it. And if it is raining or wet then it would be much, much harder than I got it.
You are not exposed at this section like some other parts of the trail higher up, but it is steep and does need concentration. Note: it's easier going up!
Once at the top, you are rewarded with views down Glen Rosa and Glen Sannox from The Saddle. To be honest, this is a perfect place to stop for a picnic and then head either back where you came or carry on down Glen Rosa.
I opted for the ascent to Goat Fell.
This involves some minor ridge running, a bit of scrambling and a couple of "don't look down" points. There is one specific bit near North Goat Fell that is a little exposed. But once you're by that the views on the other side before the climb to Goat Fell are magnificent.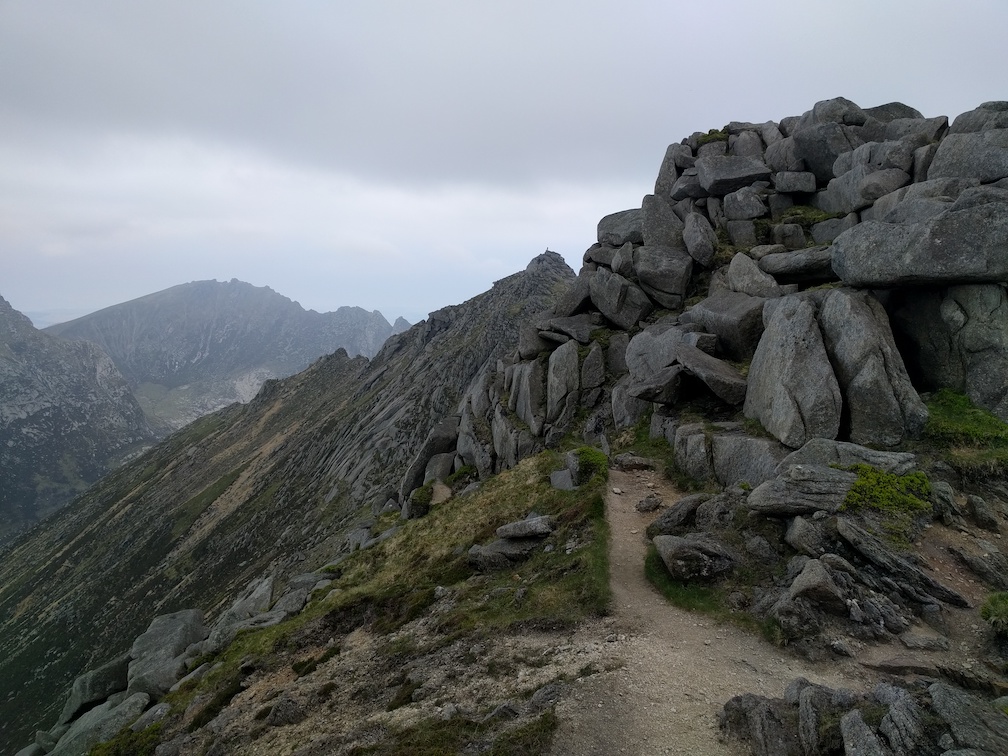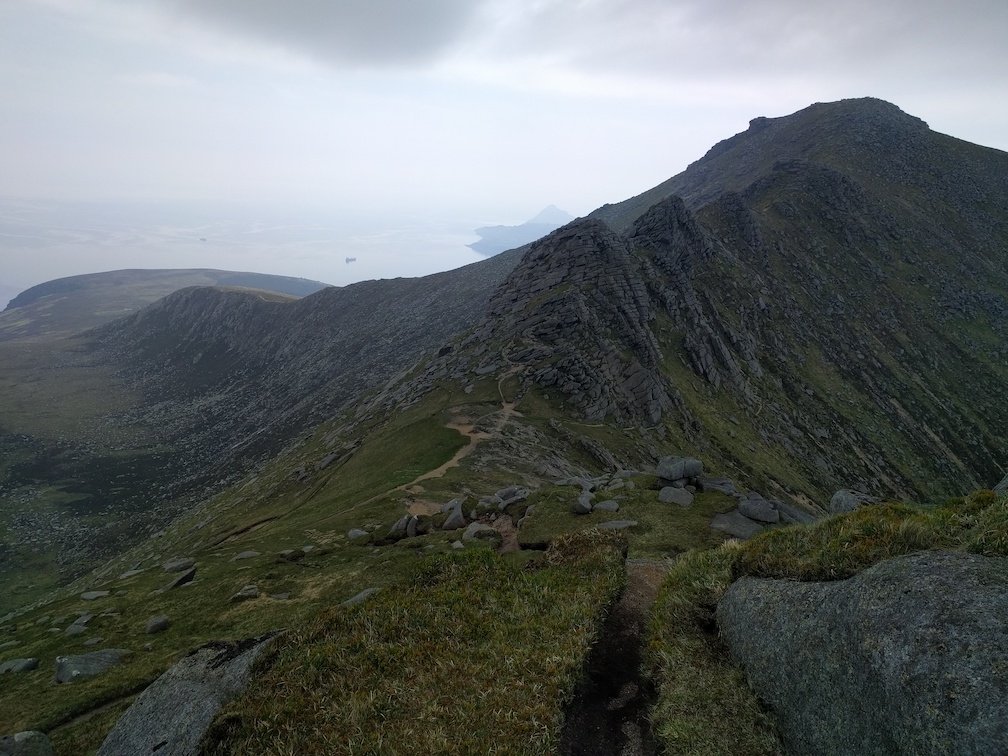 The best bit of the run for me was the descent from Goat Fell towards Brodick Castle. It is technical and requires you to focus on every step. As it was a warm sunny day, there were lots of people out climbing Goat Fell from the castle side. That added to the challenge! A bit like skiing through trees.
Once down and off the rocky parts, you run through some trees and over a bridge. A track takes you left or straight on down towards Brodick. The track to the left - the one I took - takes you back to Corrie and Sannox via the Arran Costal Way.
I think they are still working on this section of the Costal Way. It's away from the coast and through a wide stoney corridor between some large trees, so not that inspiring.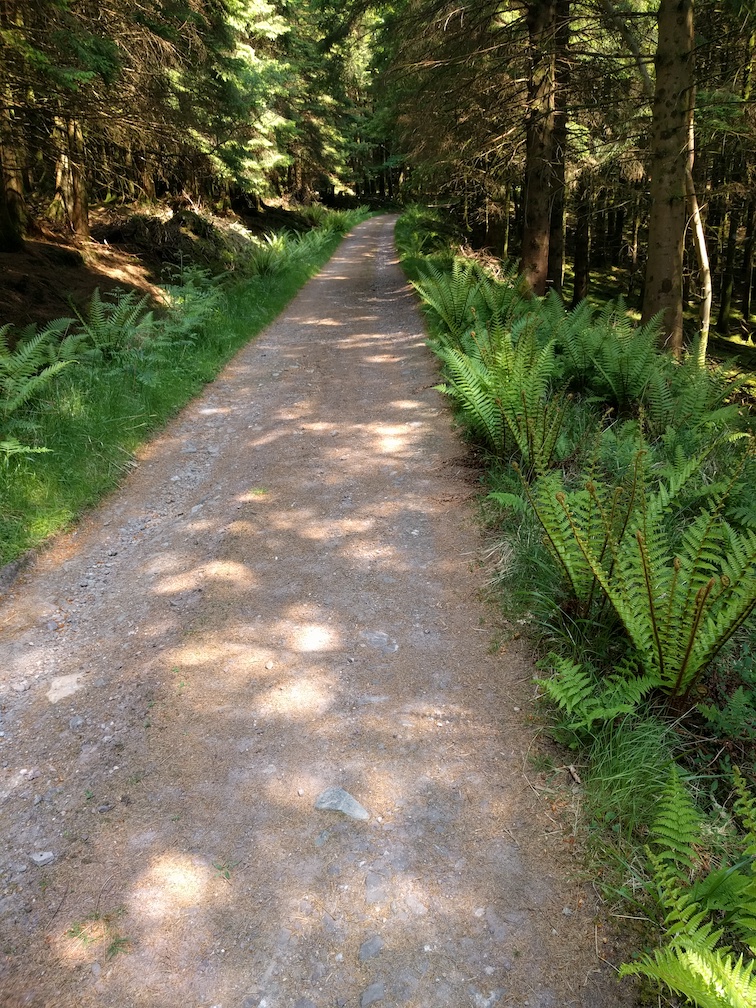 I had about five miles back to Corrie from the start of the track, and given that there was no wind and the sun was beating down on me it was tough going.
By the time I got back to Corrie I was a bit exhausted, so never really enjoyed the run through the picturesque villages of Corrie and Sannox.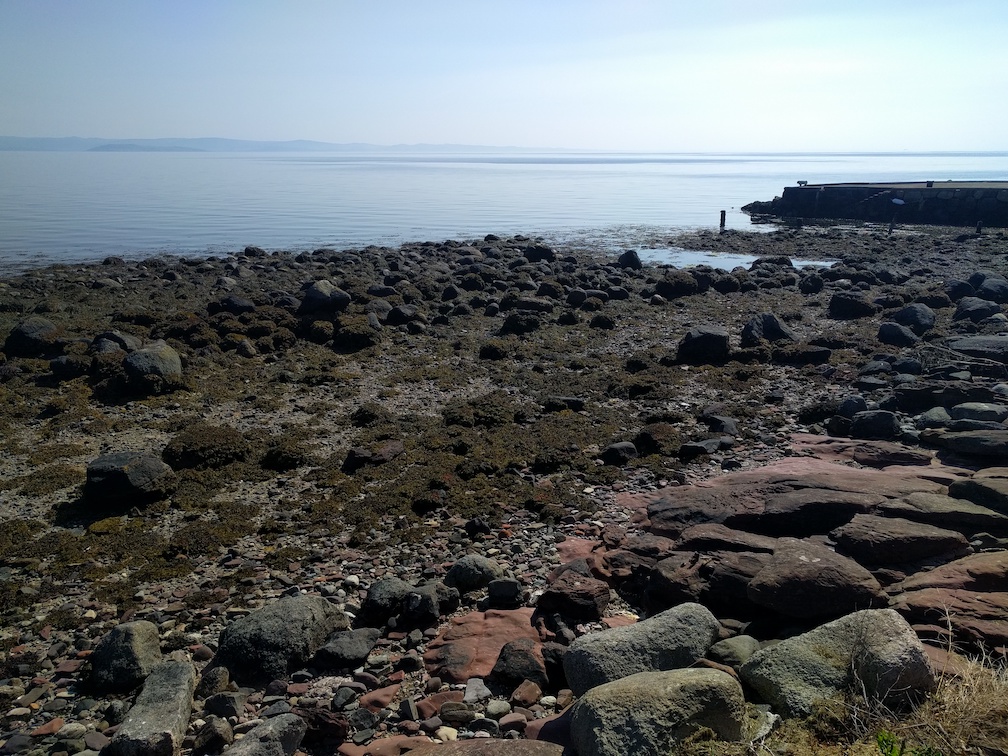 From the start of Glen Sannox up to Goat Fell and then back, it is about 14 miles. It's a very enjoyable and technical trail run that needs proper footwear and a backpack with extra fuel and clothing should you need it.
---
The experience of the Tarsuinn ridge and climb to Goat Fell has been invaluable and taught me that the mountains of Arran don't fuck about!